The world is still nuts. The right wing forces in the government are attacking Dr. Fauci. Sinclair media, who own a huge percentage of local news tv stations, is going to release a truly insane conspiracy report alleging that Dr. Fauci is responsible somehow for creating the coronavirus. Tons of people are going to see it. One of my friends has been whatsapping me some really disturbing stuff that makes me worry about him – 'context' around the police beating a guy in a wheelchair, 'privilege' from some country music guy, etc.
Biden said Trump was the first racist president, ignoring the one who actually enslaved human beings. It's gonna be a long 4 years even if Trump loses. It's incredibly depressing because I really think Biden can screw this up, but even if he wins, he's pretty conservative and will probably be a really effective block to meaningful change.
Effective work will have to bubble up at city and state levels before it makes it to a federal level.
Family
We bought a car! Now we own a hybrid Rav 4 and it's pretty cool! Sam did tons of work and found a deal with 0 down, 0% financing for 5 years. So it's just incredibly easy on us and cheaper than the Budget monthly car rental we'd been doing. I've put in a dash cam and it's a pretty good generic car. I got us the car insurance as well and we saved a few hundred bucks by returning the rental car early. Celebrated with some Aperol Spritz's and they are STILL the reigning champ drink of the summer!
Got an offer on one of the Brooklyn apartments and accepted it – looking to get the deposit on it and get into contract! Now we're wondering do we really want to sell the last one or turn it into a rental instead or what. (I really love living there, I just don't think we can fit back into it.)
Did a little more bike riding with Zebus – she wanted to ride her bike all the way to the bakery to get a cookie! I'm so impressed with her. She did it, too!
Swale found some educational plugin for minecraft that lets you do chemistry, found the recipe for latex and how to make balloons and then tied balloons to chickens so they could fly. He's also been saying just the sweetest stuff to me. Lots of I-love-you's and his own special praise to me.
We spent a $60 gift card from work on a crazy strong blender from Cuisinart and its grrrreat. Already made some milkshakes and smoothies and frozen margs.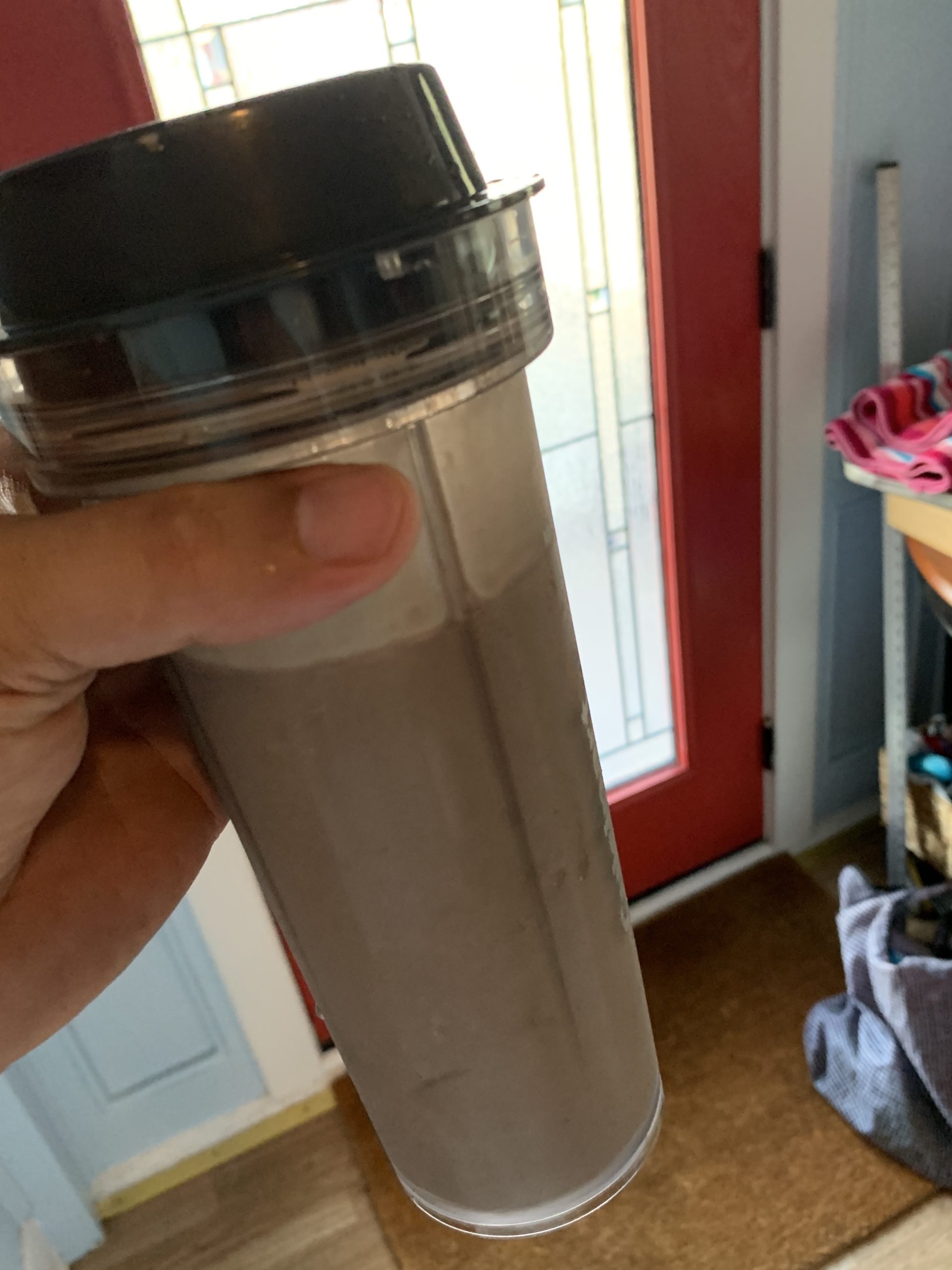 My Laptop crashed! I was going to have to ship it out for a month to get fixed, but then it started working! That's terrifying. Good thing I do a lot of git-push on my repos, back up important stuff to our Synology DiskStation NAS. I did a bunch of work as I set up a new account for work on Sam's laptop to get my jumpstart script to be smoother on OSX.
DIY
Sam found a cool wallpaper and we struggled it up in the downstairs bathroom and it looks great and I never want to do wallpaper again. It's so tricky!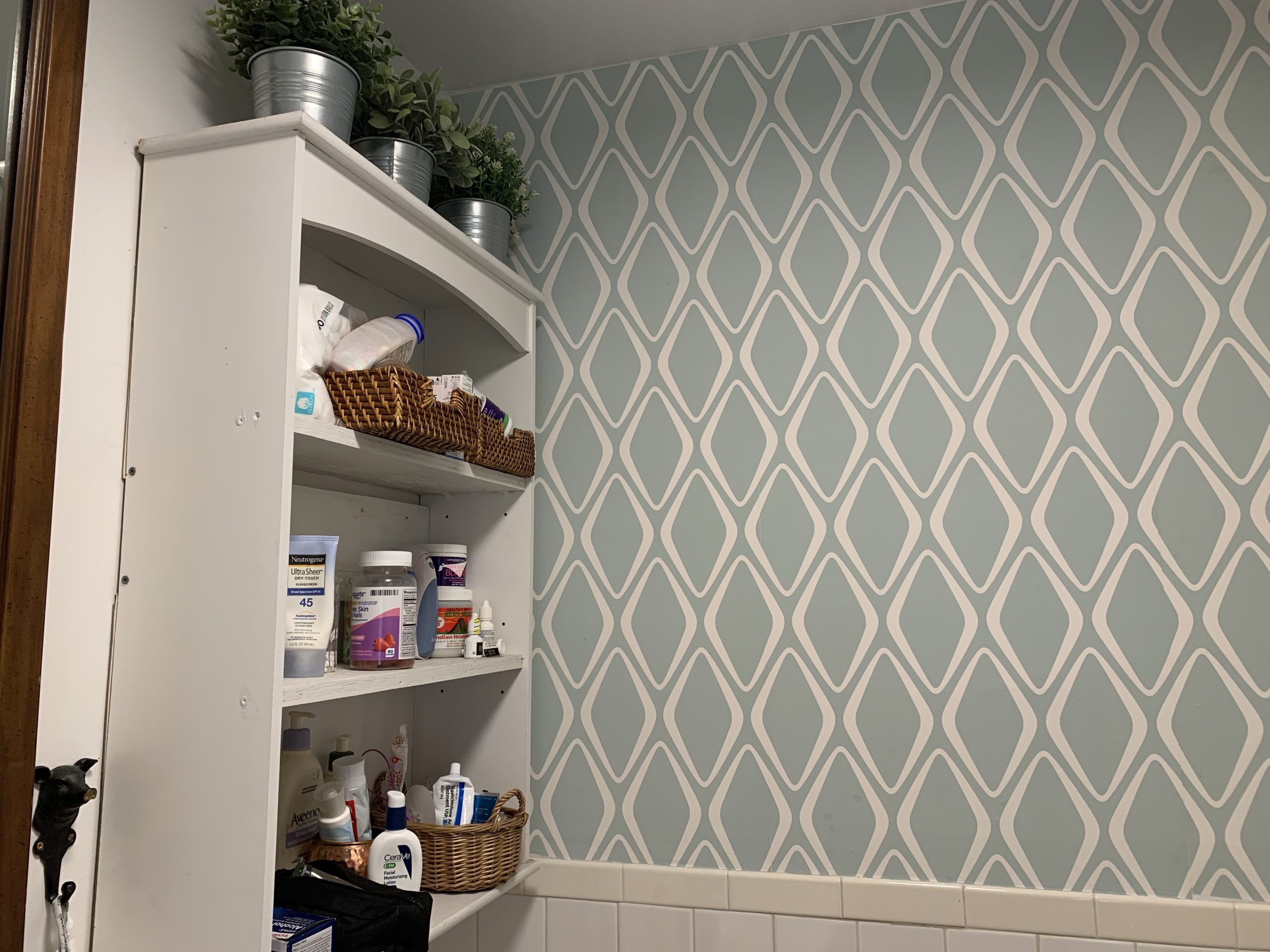 In the backyard I got up on a ladder with a pole saw and cut down some branches from the mulberry tree in the backyard, months too late to save the trampoline under it from turning into a giant mulberry collecter/fermenter. I either need to get a sawzall or a mini chainsaw or something to deal with all the branches – my small tension saw isn't realllly cutting it for this many cuts.
Kinda stalled on the patio for a while.
We've foamed up some cable holes in the walls, need to go spackle and paint them. Also started adding trim to the bottom of the bathroom sink cabinet – trimmed off one of the cabinet shims with a Dremel to make the trim flush. Also put in some under-sink rolling trash and recycling cans in the kitchen and put handles on the cabinets.
Reading
Fun week! I've put http://www.morelightmorelight.com/2020/07/24/after-the-cops/ in my Kobo, along with a new Annabel Scheme book by Robin Sloan. (I love a book that comes with a makefile to get an epub, but you can read it online if that's not your jam.
Work
Did some stuff around making documentation easier, and thinking about how to make your docs and walkthroughs look good, but be testable. Nobody likes a stale documentation site! Also getting ready to launch in the UK. Office re-opening is postponed until at least September. I don't see it happening.
Nerdery
I installed Regolith as a tiling window manager for my laptop and it seems pretty cool. Took a little while to get used to, but I'm wondering why it isn't easier to just drag windows into tiling window manager with the mouse. I spend a fair amount of time fiddling with things to get them looking right, so why is this better then just dragging a bunch of windows into the right spot?
If you've got a terminal open right now try this:

http://wttr.in/?format=v2

Pretty cool! They have tons of formats available so you could make widgets on your desktop or tmux statusline.